BIOGRAPHY
Ruhan Jia (also known as Jia Ruhan in Chinese language) has accomplished more in her mid-twenties than most artists do during their entire careers.
Chronology of Ruhan's life:
– Ruhan's musical training began early – learning the piano at the age of four, and at age six, started studying classical, jazz and Chinese folk dance. When Ruhan was nine, she began her training in Chinese Opera. The following year, she added bel-canto to her instruction. Ruhan studied vocal singing at the Chinese Conservatory of Music, and majored in bel-canto at the Shanghai Conservatory of Music. She now holds a "Bachelor of Arts" degree in bel-canto from the Shanghai Conservatory of Music.
– Ruhan has performed frequently at the Shanghai Center of Drama in many popular and successful theatrical plays, musicals and recitals. She has also performed in Hong-Kong, as well as in most major Chinese cities. She can be seen as "Nana" in the Shanghai Movie Factory tele-film "Sentinel Under the Neon Light."
-Ruhan was chosen by the French musical theater group, "Le Theatre du Châtelet" in Paris, to performed "Monkey: Journey to the West," a Chinese rock-opera composed by Damon Albarn (Blur, Gorillaz)..
– Ruhan recorded several songs with Damon Albarn in London for the album "Monkey: Journey to the West".
– Ruhan recorded the music and video clip, "BBC Olympic Theme Song for Beijing's Olympic, which was composed by Damon Albarn and Jamie Hewlett.
– Ruhan performed in the animation film, "Monkey Bee," produced by Jamie Hewlett.
– Ruhan was awarded as well as the 18th Discovery International Festival and the Llangollen International Music Festival.
– Ruhan performed in the Double Grammy Awards winner album "Calling All Dawns" produced by Christopher Tin (Best Classical Crossover Album and Best Instrumental Arrangement).
– Ruhan decided to make her first solo classical crossover album " Time To Grow".
The album was awarded "Album of the year" in China.
– Ruhan has been traveling all around the world to give her image, her voice and her talent to various International Charities' Organizations including: "United Nations" environment program, Ambassador for "Listen Give Initiative International " (with Alicia Keys and Hadiza Bala Usman). She also received "the Golden Environment Award" for promoting the Youth Olympic Game's "Protect the Environment and Love the Earth".
– Ruhan decided to record her 2nd solo Album. She gave her confidence to XIII BIS MUSIC and to Laurent Dreux-Leblanc to work on her new album, been involved in various International Classical Crossover Albums including Andrea Bocelli, Katherine Jenkins and The Ten Tenors.
The Smile Album was born!!!
– Ruhan decide to perform in English, Italian, French, old English and Chinese Daizu languages. From new songs as Ave Maria, French cover as Toi Jamais (previously performed by Catherine Deneuve in the famous film "8 femmes"), the classical crossover version of the famous British anthem "Welcome Home" (originally performed by Peter and Lee) and traditional Chinese music of the Daizu minority.
Smile album received the Nomination Award of Best of Audio Video & Electronic Publication of the Fifth China's Outstanding Publication Award
– Ruhan invite on her album "the Italian Tenors" and "I Quattro" for so emotional duets.
Ruhan performed in the new album of the collective – The Gipsy's- entitled – Asia Encuentros –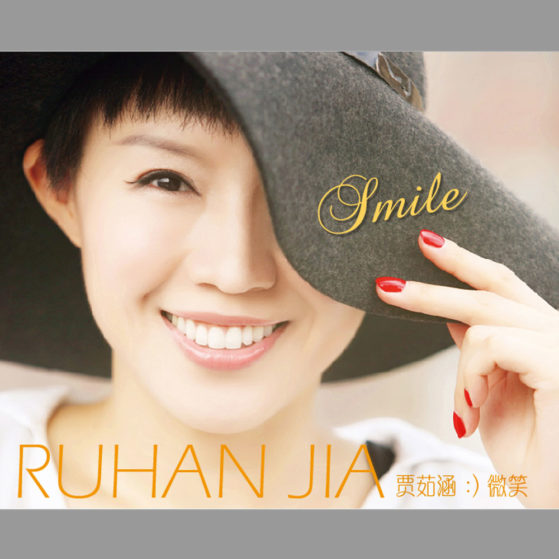 "Smile" Album
Lascia Chio Pianga (Feat. The Italian Tenors)
Cold Song (Feat. Quattro)
Ave Maria
Toi Jamais
Peacock
Tune For A New Song (Feat. The Italian Tenors)
Fragile (Feat. Quattro)
The Rivers Of My Sorrows
Welcome Home
Nirvana